I have a morning in London to play with but I also have bags that I don't want to carry around with me all day, so I decide to go to the National Gallery, check them into the cloakroom and admire some art. The building itself with its high cupola ceilings exudes calm and a sense of peace in one of the busiest cities in the world. I head for the 18th to early 20th Century paintings, as I know I'm not interested in fat Italian cherubs or dark Dutch masters.
Straight away I am impressed by Exhibition of a Rhinoceros at Venice (1751) by Pietro Longhi. It really is a spectacle as the masked ladies stand out against the bare background. The keeper holds the rhino's severed horn drawing attention to the degradation and suffering inflicted in the name of beauty and exoticism.
I've never admired Canaletto particularly so this is something of a conversion for me as I gaze at his massive canvases. Venice: A Regatta on the Grand Canal (circa 1740) is busy with gondolas and spectators – many wearing masks for the carnival. His handling of perspective is masterful, as it is in Venice: The Upper Reaches of the Grand Canal with Saint Simeone Piccolo (circa 1738) with its incredible use of light, reflections and ripples on the water. It is full of detail, right to the corners of the canvas. So too, Venice: The Basin of San Marco on Ascension Day (1740) in which Canaletto captures all the glittering excess of the festival to commemorate the marriage of Venice to the sea. I am now a fan. It's a sort of awakening – no reproductions can do these justice.
Moving through to British portraits and Hogarth and British painting we get a more austere approach. Hogarth's Marriage a la Mode series (1743) introduces a novel mode in painting as it depicts a state of debauchery and poverty arising from a loveless marriage – is it satire or simple moralising? Thomas Gainsborough painted fashionable members of society in landscape settings, hence Mr and Mrs Andrews (1748-9) who look perfectly smug and self-satisfied seated outdoors with bonnet and gundog.
Joseph Mallord William Turner paints large skies and scenes full of drama. I prefer his train to his ships, but The Fighting Temeraire Tugged to her Last Berth to be Broken up (1838) was voted the greatest painting in Britain (despite its un-snappy title) in a Radio 4 Today/ National Gallery poll. Among the atmospheric studies of mist and cloud is Rain, Steam and Speed – the Great Western Railway (1844) supposedly painted of a train crossing a bridge over the Thames at Maidenhead. A small hare (which I've never noticed before) runs for cover in front of the train. Earlier works, such as Calais Pier (1803) and Dutch Boats in a Gale (The Bridgewater Sea Piece) (1801) also focus on dramatic seas but with far more definition.
Joseph Wright 'of Derby' studies the effects of light and shade heightened by candlelight in An Experiment on a Bird in the Air Pump (1768). As a cockatoo is killed in the name of science, the tender-hearted children are upset. The moon breaks from behind the clouds and the scientist's gaze is directed squarely at us – no one else's is.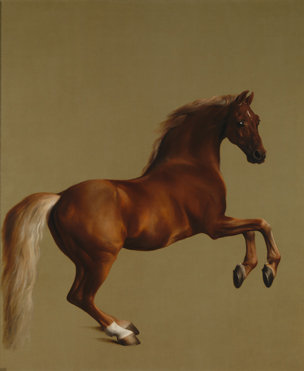 The commanding life-sized painting Whistlejacket (1762) was painted by George Stubbs for the racehorse's owner – the second Marquess of Rockingham. His interest in classical sculpture may have inspired the unusual presentation of the Arabian stallion with its superb proportions and beautiful appearance against a blank background.
Back to Hogarth with his moral interpretations: The Graham Children (1742) features a cluster of infants including a baby, being pulled in a cart, who was dead before the painting was finished. The inclusion of a cat watching a bird and a statue of Father Time with a scythe draws attention to the fact that life is fleeting.
Constable is represented by several paintings – Salisbury Cathedral from the Meadows (1831); The Haywain (1821); The Cornfield (1826) amongst others. He revels in landscape and clouds, capturing the immediacy of effects produced by light and weather. I'm not a great admirer, but my favourite would have to be The Cenotaph to the Memory of Sir Joshua Reynolds (1833-6) where a stag stands in the foreground of an autumn scene before a monument to Sir Joshua Reynolds, flanked by busts of Michelangelo and Raphael.
Another section focuses on 'The Academy' and the pictures they presented along their rules. I like the light and shadows in Honoré-Victorin Daumier's Don Quixote and Sancho Panza (circa 1855), also in Theodore Gericault's A Shipwreck (1817-18) in which the light and shade plays on the muscles of a man as he emerges naked, exhausted and dripping wet from the sea, clinging to a rock. Gustave Courbet's Beach Scene (1874) is a study of clouds and atmospheric light, while Afternoon in the Tuileries Gardens (1867) shows off Adolph Menzel's famous attention to detail in the depiction of a lively crowd.
Monsieur de Norrins (1811-12) by Jean-Auguste-Dominique Ingres stands out with his inscrutable expression. The subject was the chief of police in Napoleonic Rome; he is censorious with a hint of amusement – is this disapproval with slight admirations? Max Liebermann's Memorial Service for Kaiser Friedrich at Kosen (1888-9) is striking for its sombre mood of mourners in a forest among the beech trees, all clad in black which highlights the blond-haired children.