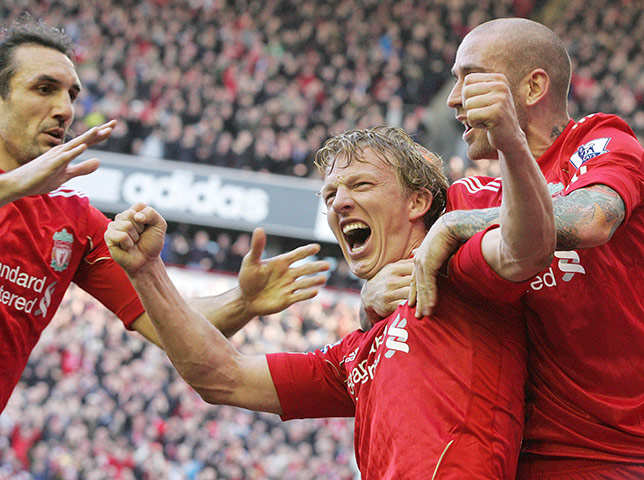 What a fantastic result from an excellent game. I know it's just one game, and one for which we were always going to make a considerable effort, and you can't use it as a barometer for the rest of the season, and yet I can't help but allow myself a glimmer of hope that my team are back. We didn't even miss Master Sulky-chops as Suarez played to near perfection. The goals were all tapped in by Kuyt, but the brilliance belonged to Suarez, and maybe to King Kenny for some judicious transfer moves. Andy Carroll is yet to prove himself, but it was good to see him come off the bench for 16 minutes of play.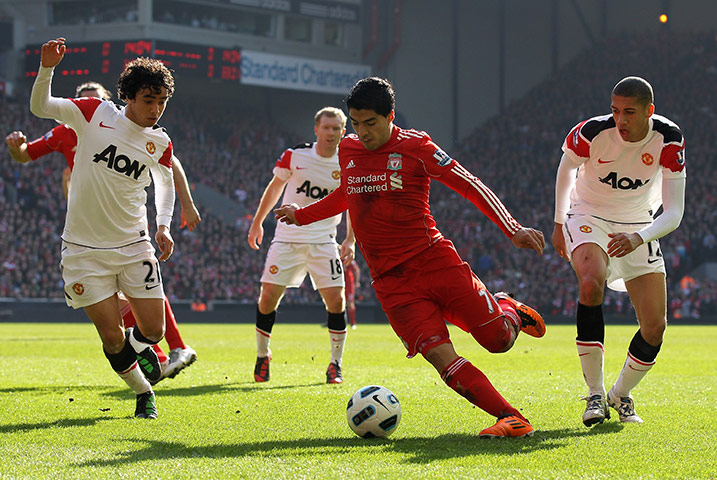 The mighty reds were absolute angels, darting nimbly around the pitch (even Carragher wasn't caught out of position too often - bless his Liver cotton socks) while the washed out whites (appalling kit from the red shite) were either totally ineffective (Berbatov was their only decent player - Rooney was so annonymous I only knew he was on the pitch when I heard the swearing) or dirty, cheating bastards. Him Outdoors says, 'They don't like it up them!' (It's true - half of his vocabulary comes from Dad's Army which is made only sadder when you realise the rest comes from Bull's Eye).
I'd have handed out at least three red cards for foul play (Van Der Sar - you can't elbow people in the neck just because you didn't realise you can't be off-side when the ball is played back to you; Rafael - attacking the ref in petulant display of temper tantrums is not a good look for anyone over the age of three; Nani - just because you're not getting your own way, kicking people is still wrong and if you can leap up and sprint to the ref in Rumplestilstkin rage, why do you need to be carried off on a stretcher?) and I'm hardly biased at all. In fact, I conceed that Carrager deserved his yellow for a fairly nasty foul on Nani although the latter's miraculous 'recovery dash' did nothing to further his cause.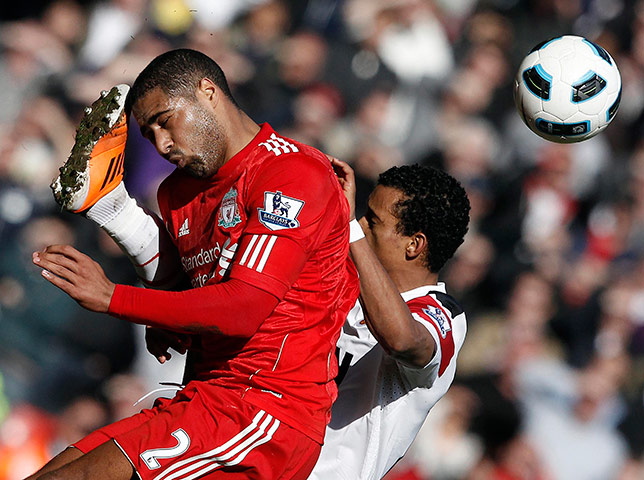 SKY's halftime commentary featured the question - who has hit the goalposts the most in this season's premier league? Answer: Steven Gerrard. For what he lacks in subtlety, the man certainly has passion and whether the ball is sailing high, wide and none-too handsome into the stands or sinking sweetly into the back of the net, there is no question that 'he twatted that' as my friend Jersey Girl used to say. He blasted a few inches wide in the second half - I read a ridiculous comment that we might not need him any more at Anfield - just behave yourselves!
Kenny Dalglish responded with a smile and a wave as the Kop sang Happy Birthday to him - how cool would that be? Fergie the red-nosed w@#%er was in somewhat lesser spirits - he'll be off to blame the ref and his side's injuries - they hadn't got Vidic and Ferdinand; we didn't have Kelly, Agger or Aurelio after 24 minutes - and I'd be very surprised if he actually gives credit to the opposition (I'll bet he supports the All Blacks).
Of course I don't want the wrong side of Manchester (i.e. Salford) to win their 19th league title and hence one more than us - even my optimism has bounds; I know this is out of our grasp this season. I may even have to support Arsenal in the upcoming crucial games, and so might the red half of Mersyside. But this game wasn't about the title; it was about football, and we just played it better. End of.