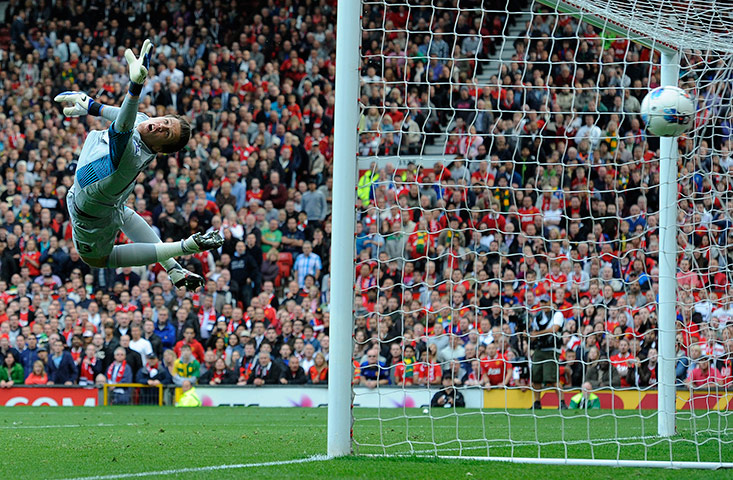 I don't usually blog about football teams other than the Mighty Reds, but, unable to sleep last night, I got up and watched Man Utd v Arsenal. What a game that was. It didn't help much with my insomnia.
The first thing I notice is that the Arsenal back four isn't working effectively, or in fact, at all. Their away strip makes them look like Wycombe Wanderers, which probably doesn't help, and Jenkinson is having an absolute nightmare; fouling left, right and centre, and arguing with his own team mates Walcott and Djourou on separate occasions. When he is sent off for a second bookable offense in the second half it is no surprise to anyone. The only novelty is a rare Rooney miss from the resulting free kick just outside the box.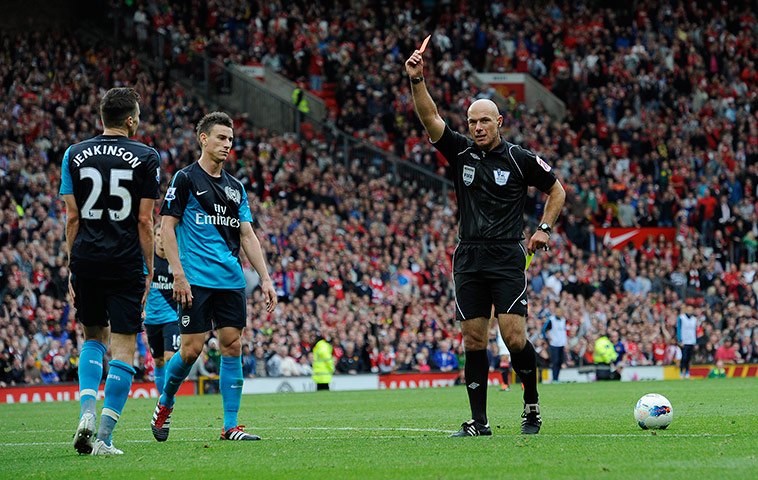 A solid goal from Welbeck is followed swiftly by a saved penalty from Van Persie (doing wonders for De Gea's slim confidence) and a brilliant goal from Ashley Young. When Welbeck pulls up with a hamstring injury about five minutes later, I almost find myself feeling sorry for him. Are these boys warming up, properly, I ask myself (alarmed at how maternal I sound - fortunately there is only the cat to hear me).
Rooney's free kick is obvious to everyone (well, the commentators and me, anyway) and after touching it to Young to stop it dead, he slots it neatly into the top left corner. I've seen him do this before and am amazed that the Arse didn't defend better, or at all (what was that wall doing?). I'm even more amazed when he repeats the exact same thing in the second half with an unsurprisngly equal result. The commentator refers to the 'effervescent Man Utd side' and points out that Rooney is now the ninth highest Man Utd scorer - Giggs is eighth apparently.
Rosicky and Walcott combine for a goal in first half stoppage time, but it's also a defensive error. Later the commentator notes, "No one's bothering too much with their defending", which is a bit like saying "No one's watching the tactical manoeuvres at the beach volleyball". Statistics show that there are more shots on target from Arsenal in the first half and the possession is 51:49% which goes to prove that statistics are bollocks and Fun Boy 3 were right - It ain't what you do, it's the way that you do it.
3-1 at half-time and Wenger isn't looking happy. I predict things will get worse for him and his side, but the Old Trafford crowd singing, "You're getting sacked in the morning" is a bit harsh. As is, "You're sh&t and you've won f#$k all." And, "Going down, going down, going down." At the beginning of the second half, the Arse fans are singing 'We're gonna win 4-3" - bless them. Stranger things have happened, but not many.

A text book copy of the Rooney free kick (as previously mentioned), a lob from Nani and a blast from Park (who has only been on the pitch for about a minute) and it's 6-1. Rooney off the post is half an inch away from a hat-trick, and then a bit of pin-ball wizardry in the Man Utd goal mouth leads to a goal for Van Persie. At 6-2 he doesn't celebrate as wildly as he might, but the Arse fans are still chanting "We love you Arsenal" - I notice Wenger isn't joining in.
When Walcott brings down Hernandez and a penalty is awarded, Rooney does indeed get his hat-trick. "Hat-trick hero in seventh heaven" spouts the commentator thinking he is a headline writer for the News of the World without realising that it no longer exists and that Ashley Young's perfectly placed second goal (and the best of the night) is about to take the score to 8-2.
And that's how it finally ends. The comparisons with the Busby Babes may be a bit premature, but no one (not even me, and believe me, I would if I could) can argue with the quality of Man Utd's strike-force today. I have to say I am impressed with the Arse fans who remain in the stands to applaud their team as they trudge desultorily off the pitch. I am very happy with Liverpool's win over Bolton and the fact that we are looking pretty good. But I can't deny that Man Utd are looking brilliant. So I make myself a Horlicks and go back to bed.