When I go to a new country, one of the things I love to do is go to their national portrait gallery. I think you can learn a lot from these places, such as who is important to the nation and why.
The National Portrait Gallery, Canberra, contains a visual snapshot of Australians. The portraits are predominantly of politicians, athletes, generals and soldiers, activists and Indigenous rights' campaigners, chefs and restauranteurs, newsreaders, fashionistas, artists, authors and musicians, architects, doctors and scientists.
Some are against blank backgrounds; others have elaborate settings, which can be as significant as the subject themself and can help you guess their occupation.
Dr John Yu by Ah Xian
A glazed ceramic head of Dr John Yu by Ah Xian was my starting point. Dr John Yu was Australian of the Year in 1996; as a paediatrician and administrator, and noted for his collection of Chinese ceramics and love of art and music, this torso with little child figures crawling over it makes perfect sense, and it is the first 21st century porcelain bust in the National Gallery's collection.

HRH the Crown Princess of Denmark by Jiawei Shen
I love this portrait of Mary. She stands in a stunning blue gown with a sash, accessorised with a Danish elephant, looking frankly at the viewer. On one side is a Danish column, and on the other is an open widow, through which can be glimpsed the Opera House which, as it was designed by

Dane J

ø

rn Utzon, cleverly combines her background with her future representing the two countries.
George Tjungurrayi by M

atthÿs Gerber
George Tjungurrayi was an artist, of the Pintupi/ Luritja/ Ngaatjatjarra language group from Kintore, NT. He has become one of the masters of Pintupi art, and his huge dazzling paintings of the Tingari Cycle are represented in the National Gallery of Victoria and the Art Gallery of New South Wales, as well as European collections. M

atthÿs Gerber has painted his image as a series of coloured planes, contour-mapping the artist's face as a cartographer might, to evoke Tjungurrayi's colourful depictions of the country.
Nick Cave by Howard Arkley
Howard Arkley's synthetic polymer on canvas portrait of Nick Cave (1999) is one of my favourites. It combines bright colours and bold sweeps of spray paint with the singer's uncompromising glare. The two knew each other vaguely in Melbourne in the late 1970s. Arkley came to see no sense in the Australian preoccupation with paintings of the bush, when such a small percentage of the population engages with the bush itself.
Instead, over twenty years of experimentation, he developed a distinctly psychadelic and incandescent airbrush style, which he employed in immaculately finished depictions of suburbia. After representing Australia with such works at the 48th Venice Biennale in June 1999, he travelled to London to plan an album cover for Cave, and then to Los Angeles for a sell-out show of his paintings. He died a few days after his return to Melbourne, and this was one of his last completed works.
Christos Tsiolkas by John Tsiavis
When you look ast the photograph of author Christos Tsiolkas by John Tsiavis, the first thing you see is your own reflection against the black background covered in glass, and then you notice his judgmental look as he seems to lurk in sepia in the top corner. Unnerving.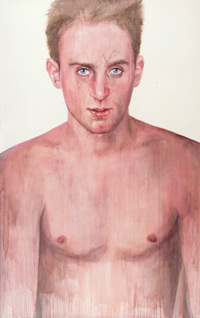 Simon Tedeschi unplugged by Cherry Hood
The giant canvas of Simon Tedeschi Unplugged (by Cherry Hood) in watercolours that run down his bare torso makes him look more like a swimmer than the pianist he apparently is, so you can't guess them all!
Geoffrey Gurrumul Yunupingu by Guy Maestri
Geoffrey Gurrumul Yunupingu's portrait (by Guy Maestri) is another huge and powerful work. He was born blind, learned guitar, keyboard, drums and didgeridoo to play in The Saltwater Band. His debut album in 2008 (entitled Gurrumul) won four ARIA awards. The portrait seems to reflect depth and harmony.
While I was roaming aimlessly between galleries, the chap I had previously left my stuff with in the cloakroom approached me. He was finishing his shift and said he wanted to show me some of his favourite works in the gallery. I'm pretty sure that wasn't a euphemism, because the first thing he showed me was Ned Kelly's death mask!
Captain James Cook by John Webber
Next he showed me a fabulous portrait of Captain James Cook by John Webber. It used to hang on the wall of Alan Bond's office until he was declared bankrupt and it was given to his liquidator. The National Portrait Gallery bought the painting for $5.13 million - it is the most expensive art-work in their collection.
Deborah Mailman by Evert Ploeg
The guide also showed me the People's Choice Award, which is a portrait of Deborah Mailman by Evert Ploeg (1999). She is an actor of Maori and Aboriginal parents, and the rendering of oil on jute makes for an interesting background.
Nora Heysen self-portrait
His own favourite is a self-portrait of Nora Heysen which he points out (correctly) has a 3-D-like effect, and wherever you stand in the room it appears as though she is watching you, and her image stands out from the canvas.
Still of Cate Blanchett from a video by David Rosetzky
Finding out what I liked, he took me to a video by David Rosetzky of Cate Blanchett explaining her acting process, and he left me to watch the ten-minute documentary. She explains that acting is a "constant pull between wanting to be seen and not wanting to be seen." To assume a character you've got to get to a place of neutrality; to see the horizons of a character and know you won't fall off the edge. Characters are there to do something, like figures in a dream. They are real, but when you wake up... they're shadowy. "Who I am is constantly changing." She stands, sits and dances in an empty warehouse, and it is entirely compelling.