Rick Ball in front of three of his paintings
The artists featured in the Broken Hill Regional Art Gallery are unsurprisingly obsessed with the elements - many of the works incorporate earth, wind, fire and water (or rather, the lack of it). The area relies heavily upon the water found in the Murray Darling River systems, and it is diminishing rapidly. Apparently, when full, the four lakes of the Menindee Lake System hold more than three times the volume of water of Sydney Harbour.
Curiously, there has been a lot of rain recently, and Lake Menidee is full for the first time in three years. This does not lessen the ecological crisis gripping the region and environmental concerns for the future of the towns. When we visited, the exhibition, Contemporary Primeval, highlighted the work of Rick Ball and Ann Evers, and through paintings and sculpture they both addressed this issue.
Rick Ball's expansive canvases relate in an abstract fashion to his surroundings. Having lived in Broken Hill for the last 25 years, he also acknowledges the influence of mining in his images. He claims to be an interpreter for the land rather than a painter, and he layers natural pigments and substances onto each creation. Paint, sand, crushed shells, vermiculite and tennis-court whiting are all present, recalling handfuls of colourful mining deposits thrown against the linen.
Many of his works are triptychs or multiple canvases positioned side to be side to try to capture the enormity of the landscape.
Sydney and the Bush
is awash with purples, pinks, reds; great gobs and streaks of oil as the city seems to emerge from the bush over it's iconic bridge, or is it being swallowed up and returned to nature? In
Evening stroll beside Lake Menindee before the water disappeared
we see long human shadows at sunset, or are these aerial images of dried-up riverbeds? Questions are left unanswered, but the physicality of the work is unmissable. In a co-operative touch, each artist has supplied a brief introduction to the other's art.
"All ideas of art being a 'beautiful illusion' have been banished from the room. Instead we are surrounded by images that are both strange and familiar in equal measure. One is reminded of the stories of those first Europeans as they confronted this continent's trees, animals and human culture. While very young, Rick says that he felt inundated by the ancientness of the natural world, while his human world was generally obsessed with newness." – Ann Evers
Singing in the Barrier Ranges by Ann Evers
In turn, he writes of her art;
"

Ann Evers' unusual fibre art holds the element of surprise. Her clever use of materials as a weaver is like a bird's use of skin, bones and feather for flight.

Evers is no mere basket-maker. Each piece of her work, large or small, is a story of time and of place. She is a weaver of stories and materials, of nature and culture. She weaves the north to the south.

Sharp humour abounds alongside an equally abundant earthy circumspection, obvious in any exhibition of her work.

" – Rick Ball
She incorporates found objects into her sculpture giving them elements of both traditional and contemporary reference. Into pit-fired pots woven with natural fibres, bark and wire, she places bones, sticks, rocks and seeds. Three tall twined vessels of Singing in the Barrier Ranges include

arid land snail shells, baby clams, local seedpods and capsules; all held together with rock sida, lignum and sedge, used as uprights.
Ann Evers with some of her creations
Waiting for Water
comprises six figures in flight made from handmade paper and pigment, handmade string and linen thread. All other materials are collected on and around the beach of the "now-empty lake Menindee". Serving as monuments to times past and receptacles of foretold growth, these creations hang from the ceiling indicating impermanence and fragility.
Waiting for Water by Ann Evers
The gallery is housed in the former Sully's Emporium and has won numerous heritage awards for the restoration and refurbishment of the building. Its wooden floors and dramatic staircases provide a fantastic counterpoint to the artworks. There are all the usual s
till lifes; portraits; landscapes; naïf art; abstracts; Aboriginal animal spirits; story poles; dot art and granite sculptures, but some pieces stand out to make a statement.
Clarendon Spring, Make Sure the Sun Wipes It's Feet (1984) by John Olsen
I love the riot of colour
–

primarily

mustard yellows
– as
swirls and tendrils connect like cells in John Olsen's vivid Clarendon Spring, Make Sue the Sun Wipes Its Feet.
Lana Roberts has rolled up ties and stitched them together, separated by beads, into a series of necklaces called
Men's Dress Ties Revisited­
. Sidney Nolan's

Little Boy Lost

is both

disturbing

an

uncomfortable

as a small child all in white and

wearing

a sunhat stands starkly against a background of red earth and ominous sky, calling to a primal fear in all of us of alienation and abduction.
Little Boy Lost (1983) by Sidney Nolan
Another iconic Australian artist, Kevin Charles (Pro) Hart is featured with The Yabbie Catchers, as little figures in bright colours both stand out from and are dwarfed by the enormity of their environment - the trees and river are far more timeless and enduring than their uncertain activities.
The Yabbie Catchers (1987) by Pro Hart
Images of Broken Hill itself range from the

sublime

to the surreal. Sam Michael Byrne gives us bright colours and highlighted dots to display prosperous streets with a Toytown perspective in

Silver City

(1957), whereas Eric Minchin's

North Mine

(1970) is in bleached tones with dramatic greys and streaks of

orange

. Meanwhile the houses in the foreground of May (Florence) Harding's

Broken

Hill

, Nocturne

(1967) are all but overshadowed by the

burning

orb and the looming mine, which dominate the landscape.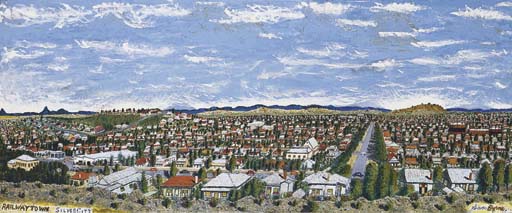 Silver City (1957) by Sam Michael Byrne
Broken Hill, Nocturne (1967) by May (Florence) Harding
A spectacular red gum sculpture highlights the work of Badger Bates and his symbolic lino cuts.
Plesiosaur and Ngatyi: The Past, the Present and the Future
(2003) represents the future of the Darling River through the fact that an opalised Plesiosaur was found at White Cliffs, bringing tourists, scientists and historians to examine the archaeological marvel. Ngatyi is the Rainbow Serpent of Aboriginal mythology; a creator god, which gives life through its association with water, but acts as a destructive force when angry - once again reminding us of the elements and the
regional
geography. In this carving the two beasts are intertwined with their heads together symbolising reconciliation, as we must work together to protect our country.
But I'll finish this post with this powerful picture of a flood of pink flowers in calming, swirling patterns; blooming with unexpected beauty in the middle of the desert - just as Broken Hill itself is a small oasis of society in the middle of a vast swathe of

nothing

.
Wildflowers Dreaming by Emily Kame Kngwarreye