I have been on more theatrical excursions of late, so here is a brief summary of some of the shows I have seen:
Dracula by shake & stir theatre co
Hamlet at The Phoenix - advertised as 'A staged reading of an edited Hamlet by William Shakespeare', this is Cameron Thomas and a group of his mates reading sections of an extremely abridged Hamlet in a pub. As one would expect, there are drinks between acts, which means things get a little loose towards the end, but as the audience do too and pretty much everyone dies anyway (you can't possibly call that a spoiler!), it seems to fit the theme. Some of the actors are much better than others (inasmuch as some of them can actually act), and some sound like they are reading it for the first time - which, they might well be, as rumour has it that someone pulled out on the day of the performance. Live music from Cameron Ewens on keyboard throughout keeps things moving along nicely, and the actors swap characters along with their hats, which provides some humorous moments. There isn't a lot of depth or complexity (Fortinbras and the notion of restoration of order to Denmark is entirely absent) but it is fun and fast and not at all furious.
Dracula produced by shake & stir theatre co. at The Playhouse, Canberra Theatre Centre - Shake and Stir once again bring sumptuous production values to the stage. The design and technical elements are faultless with a multipurpose revolving set and truly atmospheric sound and lighting. The adaptation honours the original book, eschewing some of the more schlocky aspects of later incarnations. While the darkness is ever-present, however, the fear and tension is absent, which may be because Old Creepy Dracula (Nick Skubij) seemed to morph into The Terminator, and I kept expecting him to say, "I'll be back."
The Iliad Out Loud & Abridged at The Street - Three people (William Zappa; Nick Byrne; Chrissie Shaw) read an adapted version (by William Zappa) of Homer's Iliad over the space of nine hours (that's three hours a night). They don't interact with each other or the audience, and harangue us with details of ships and battles, misogynistic Gods and rampant masculinity, while percussionist Gary France hits things in the background. They all have beautiful voices and bring out the poetry of the repetitious language, which was always meant to be spoken aloud rather than read in isolation. There is a strong appeal to school groups and university scholars, of which there are probably many in Canberra, who want to feel worthy. This is theatre for radio; best listened to while doing chores about the house.
The Play That Goes Wrong produced by Lunchbox Theatrical Productions Pty Ltd at The Canberra Theatre Centre - The fast-paced, critically well-timed production provides a really enjoyable night out. There are laughs a-plenty in the first act, which feels like comedy; fewer in the second, which feels like farce. Strangely enough, I've never enjoyed watching women trying to upstage each other while fighting in their underwear (it's just not funny, although many men seem to think so), but the stage crew logistics were superb, and the risk-assessment necessary is mind-blowing. The acting is all highly-stylised and unsubtle (co-writer Henry Lewis credits The Art of Coarse Acting, Monty Python and Laurel and Hardy, so that's hardly a surprise) and the story (of who murdered whom and why) becomes increasingly irrelevant as theatre tropes come flying from all directions, along with the props and set itself.
A View from the Bridge produced by Canberra Repertory Society at Theatre 3 - Director Chris Baldock gives Arthur Miller's classic the 'bigger-than-Ben-Hur' treatment with a set that upstages itself, built from pallets and netting to represent the wharves where Eddie works. It is superbly lit and dominates the action (too much in places, where more intimacy would be welcome) but is awkward at times with actors struggling up and down gangplanks and crashing through flimsy wood in an alarming manner. The young leads are excellent and the relationships between the immigrant Italian bothers Rodolpho (Alexander Chubb) and Marco (Chris Zuber) are compelling and affecting. As Catherine, Karina Hudson is delightfully fresh and conflicted as she struggles to understand her uncle and aunt, and their attitudes to her burgeoning maturity. Less impressive is the central relationship between Eddie (Knox Peden) and Beatrice (Karen Vickery), which is too combative and lacks any hint of the warmth and affection Beatrice claims to miss. Nuances of text and movement are swamped by over-gesticulations, shouting and the chorus of (largely ineffective) actors who remain on stage throughout, patronising the audience's intelligence by miming the action. The production is bold, brave and bombastic, but bigger isn't always better.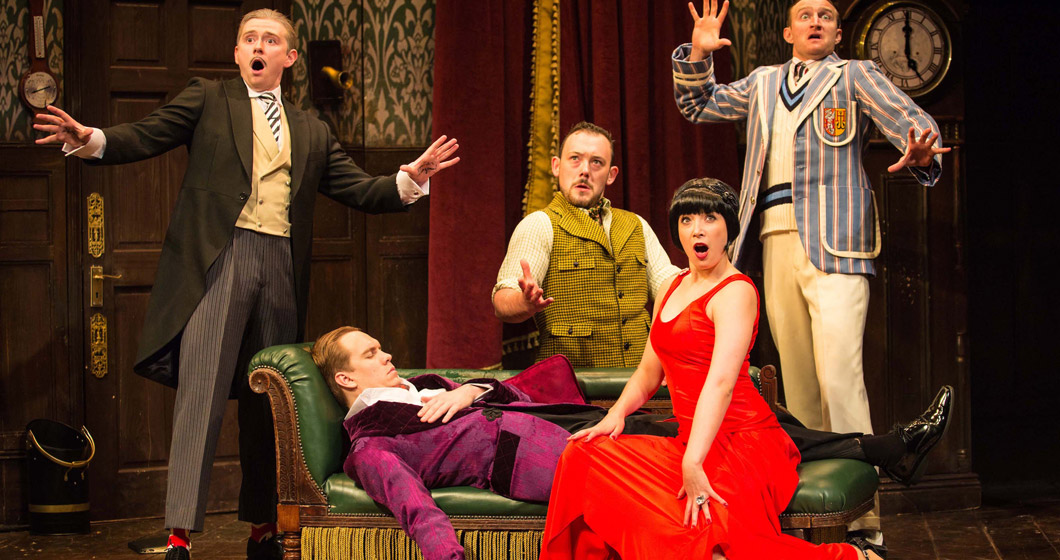 The Play That Goes Wrong by Lunchbox Theatrical Productions